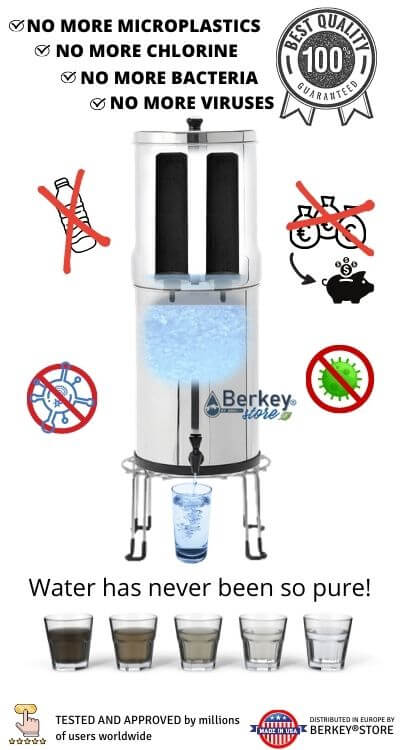 Are you looking for a drinking water filtration system to filter tap water as well as rainwater or even water from a well or pond? Then you have come to the right place.
Water filter or water purifier?
Much more than just a water filter, Berkey® systems are water purifiers. They can be used to filter tap water to remove residual pollutants such as heavy metals, chemical pollutants and chlorine, but above all they can make water that is not drinkable. Its filtration capacity allows it to remove bacteria, viruses, drug residues and a large list of pollutants from the water, details of which can be found in this list.
Water purification is provided by Black Berkey® filters, with a capacity of 22,700 litres, ensuring long-lasting filtered water, from 3 to 10 years depending on the type of water filtered and the frequency of filtration. Optional PF-2 filters can be added to improve filtration of heavy metals, fluorides or arsenic.
In addition to this extraordinary longevity, which makes it possible to provide filtered water at home, but also while roaming at the lowest cost on the market (less than one cent per litre of filtered water), it is completely autonomous (works without electricity or water network), even in emergency situations.
Autonomous, economical, ecological, that's why we can say that the Berkey® system is without a doubt the best water purifier in the world.
to go further
Would you like more information or help in choosing the right model? Contact us, we will be happy to help you make your choice.
More information on Berkey® water filters ?