ASSISTANCE AND TIPS

FREE SHIPPING*

BERKEY® AUTHENTICITY
ALL MODELS BERKEY®

Travel Berkey® 5.6L



Big Berkey® 8.5L



Royal Berkey® 12.3L



Imperial Berkey® 17L



Crown Berkey® 22.7L



Berkey Light® 10.4L



Go Berkey® 0.95L



Sport Berkey® Bottle 0.65L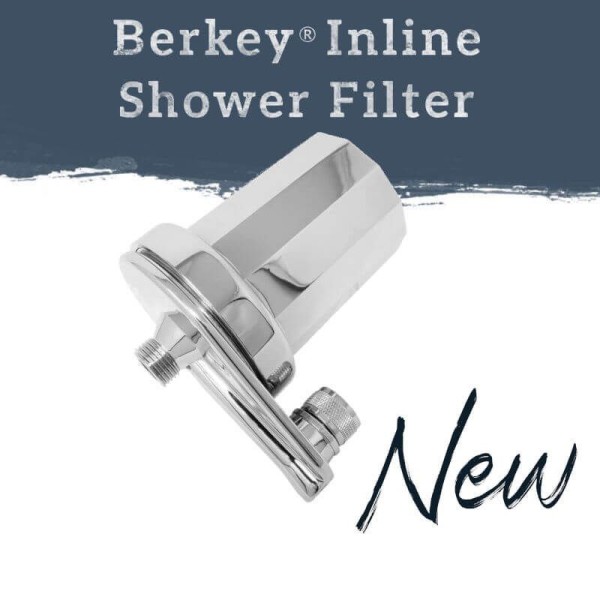  
Berkey® Inline™ shower filter
IN STOCK - delivered 48/72h*
Berkey® Inline™ shower filter


Fits all showers


Healthy skin and hair


Filtration capacity: 113,400 liters or 1 year


Rechargeable


Reduces the absorption of chemicals


Removes chlorine, dirt and odors


Compatible with showerhead and hand shower
INSTRUCTIONS SUPPLIED






Berkey® Inline™ shower filter
The Berkey® Inline™ shower filter will filter an average of 113400 liters or 1890 showers. Reduce harsh chlorine, which can damage delicate skin and hair, by up to 98%. The Berkey® Inline™ shower filter cartridge is easy to replace and inhibits bacterial growth and reduces heavy metals, algae, limescale and sediment in the water, improving water and steam quality. Installation involves connecting the Berkey® Inline™ filter between the shower arm and your shower head (not included). The connectors are standard and will fit any standard installation.
The design and finish of this model are two points that differentiate it from the standard shower filter. Made of ultra-resistant chrome-plated plastic, the cartridge is easily replaced while leaving the system in place on your shower.
The Berkey® Inline™ model can be installed both before your shower head, and at the mixer outlet before your hand shower hose.

Caution: This shower filter is only effective if the water pressure in your shower is between 1.4 and 6.9 bars.
The general water pressure in your home is probably not the same for your sanitary equipment and you should bear in mind that such an appliance will inevitably reduce the outlet pressure somewhat.
Any request for a return on the grounds of a pressure defect can only be accepted if the cartridge has not been tested in a real situation.
Therefore, we advise you to install the entire accessory, closed shell (beware of clamp marks on the screw rings) without the cartridge.
If your water comes out with a slightly lower pressure (which is normal), this means that your Berkey® Inline filter can work in good conditions.
If this is not the case, do not install the cartridge and contact customer service to request a return.


Spécifications:
BPA free
Filtration capacity: 113,400 liters or 1 year
Height : 105,8 mm x diameter : 56,5 mm
Operating pressure: 1.4 - 6.9 bar
Operating temperature range: 4° to 48.9° C
Optimal pH range: 6.5 - 8.5
Required tool: adjustable pliers for nuts or flat keys
Guaranteed 12 months
Précautions:
The life span depends on the quality of the treated water
The water filtered by the shower's filter cartridge is not recommended for drinking water
Operating pressure: 1.4 - 6.9 bar
Do not use when line pressure exceeds 6.9 bar
Do not exceed 48.9° C
Do not install in direct sunlight
Protect from freezing
Contents of the package:

Chrome shower filter
Filter cartridge
Plumber's tape
Seals and gaskets
Instructions