ASSISTANCE AND TIPS

FREE SHIPPING*

BERKEY® AUTHENTICITY
ALL MODELS BERKEY®

Travel Berkey® 5.6L



Big Berkey® 8.5L



Royal Berkey® 12.3L



Imperial Berkey® 17L



Crown Berkey® 22.7L



Berkey Light® 10.4L



Go Berkey® 0.95L



Sport Berkey® Bottle 0.65L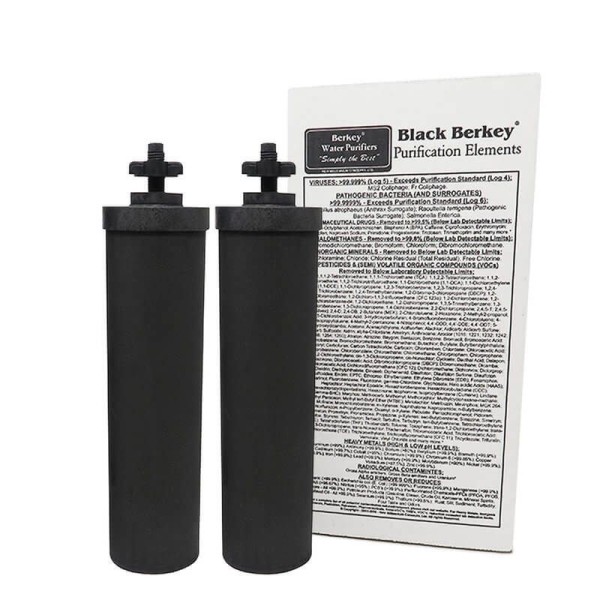  
Black Berkey® Elements
IN STOCK | Shipping 48/72h*
Black Berkey® Water Purifier 2-Piece Kit

High quality filter elements


Replaces used filters in your system


Increases the filtration speed of your purifier


2 year proportional warranty


Tested to exceed NSF / ANSI 53 standards

⚠️ CHOOSE LANGUAGE FOR USER GUIDE

Black Berkey® Elements x 2 for Berkey® Water
Black Berkey® purification elements are the most efficient of all gravity filter elements currently available on the market. The micropores in Black Berkey® purification elements are so small that even pathogenic viruses and bacteria cannot pass through them. Black Berkey® purification elements are so effective that they can even remove red food coloring from water without removing the beneficial minerals your body needs. No other filtration element can achieve this performance.
Unlike some expensive disposable filters, Black Berkey® purification elements not only have a very long life, but are also cleanable. When the flow rate drops, simply scrub the Black Berkey® purification elements with a ScotchBrite® pad under running water, reinstall them and your system is ready to purify water again.
In addition to being washable, the filters are self-sterilizing to preserve them during long periods of non-use. Feel free to consult our FAQ for all your questions regarding maintenance and use.
Each purification element filters up to 11,350 liters and will provide pure and healthy water for years (an average of 10 years for a family of 4 people for 1.5 liters of drinking water per day).
To calculate the detailed life expectancy of Black Berkey® filters, see our FAQ.
The Black Berkey® purification element formulation has been tested by accredited laboratories to exceed NSF / ANSI 53.
Includes:
2 Black Berkey® Elements
2 wing nuts, 2 washers
1 priming plug
2 years proportional warranty

Data sheet
Compatibility

Berkey Light®
Big Berkey®
Crown Berkey®
Go Berkey®
Imperial Berkey®
Royal Berkey®
Travel Berkey®
You might also like
berkey-filter-elements
PF-2™ Elements
2 PF-2™ filter kit for Berkey® water filter Removes...
customize-your-berkey
McCormick® red dye
McCormick® dyerecommended by Berkey® Black Berkey®...