It's where you want it, when you want it!
Berkey® outdoor systems are portable, durable and as powerful as your kitchen filter. Made to follow you everywhere, on vacation, hiking, or simply in your outdoor kitchen.
Mobile, smart and design: Berkey® outdoor in all circumstances!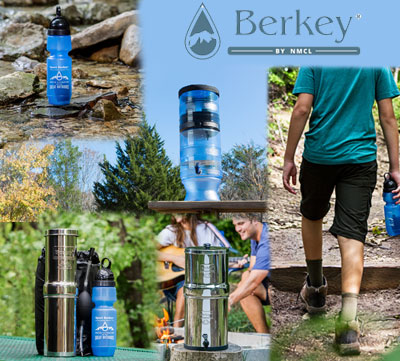 I filter my water, wherever I go...
You are going on vacation: pack your Travel Berkey®, the smallest stainless steel system in the indoor/outdoor range. Make room for it, the size in transport mode makes it so compact that it would be a shame to go without it. You'll feel right at home everywhere!
Short or long hike, Berkey® ensures! Let your entire group enjoy your clean, pure, filtered water in a hygienic way. The Berkey® Go Kit can refill your group's water bottles with ease. Since Berkey® filtration performance is safe and unmatched, you can refill your system at any water source or watering hole (spring, public fountain) you come across on your walk. The Go Berkey® kit comes with a Sport Berkey® water bottle that allows for filtration for your personal use. For uncompromising walks!

Are you more of a barbecue person? That's fine with us too!  You will then opt for a Berkey Light®, for prolonged outdoor use, to be installed in the center of your summer kitchen or outdoor bar, to keep your friends cool. To consume without moderation!
And why not in the office? Not all workspaces offer water fountains (which is not the best water, remember). So think of the Go Berkey® system as perfect for your workday away from home.
Berkey® has really thought of everything, especially you!
Outdoor filters allow you to filter your water on any occasion, at the office or on a hike. With the Go Berkey® or Sport Berkey® water bottle for a short outing or with the Berkey Light® or Travel Berkey® on a scheduled trip such as a camping or B&B vacation.
If you are used to filtering your water at home with a Berkey® water filter, then don't deprive yourself from the benefits of pure, healthy water while on the move!
Adapted to all situations and budgets, opt for one of our ultra transportable systems, which allow you to filter your drinking water throughout your activities.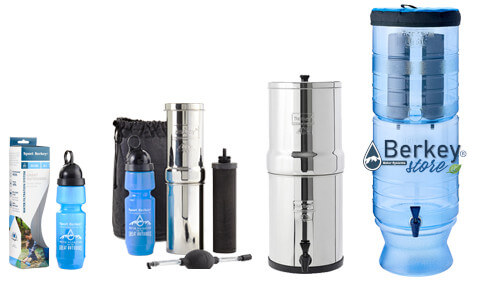 More information on Berkey® water filters ?