The best health ally in your kitchen!
Berkey® water filters are innovative and attractive. They can provide for the needs of one person up to a family of 12 people for the largest model. Very design, your water purifier will fit perfectly in your kitchen.
Pure and healthy water always within reach!
For beverage machines: the daily quantity filtered by your water filter will allow you to fill all your beverage preparation devices, such as your kettle, coffee maker, espresso machine, American refrigerator tank...
For culinary preparations: pure and healthy water always available to wash your fruits and vegetables, but also to cook them, or to cook pasta, rice...
To make your own ice cubes: not only will your water be pure, but your ice cubes too! Also ideal for filling the tanks of multi-function refrigerators that dispense water and make ice.
Fill in and take away: drink your filtered water all day long by refilling your container, flask or fruit infuser every morning.
High Quality table water: for your daily meals, with friends or family, present your Berkey® filtered water in an attractive carafe adapted for the occasion.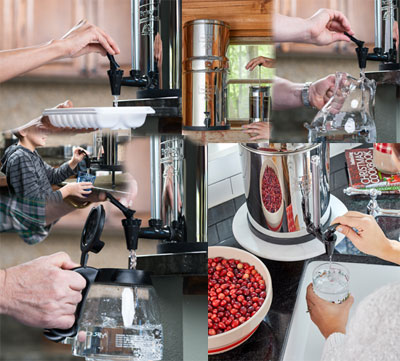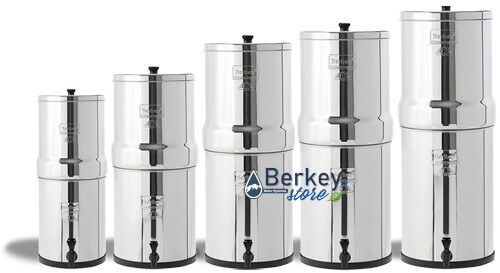 A wide range of sizes for everyone!
From the 1-2 person Travel Berkey® to the large 12 person Crown Berkey®, the Berkey® line of stainless steel water purifiers can meet any need and provide water for up to 600 people in emergencies.
For individuals: pure water like never before for your family and guests. There's no greener, more economical choice than a Berkey® water filter. What are you waiting for?
Communities : offer your employees filtered water to drink throughout their working day.
Tourism professionals and restaurant owners : Stand out from the crowd and offer your customers filtered water in a carafe, or equip your B&Bs and vacation homes with a Berkey® water purifier. A quality attention that will make all the difference!
More information on Berkey® water filters ?