ASSISTANCE AND TIPS

FREE SHIPPING*

BERKEY® AUTHENTICITY
ALL MODELS BERKEY®

Travel Berkey® 5.6L



Big Berkey® 8.5L



Royal Berkey® 12.3L



Imperial Berkey® 17L



Crown Berkey® 22.7L



Berkey Light® 10.4L



Go Berkey® 0.95L



Sport Berkey® Bottle 0.65L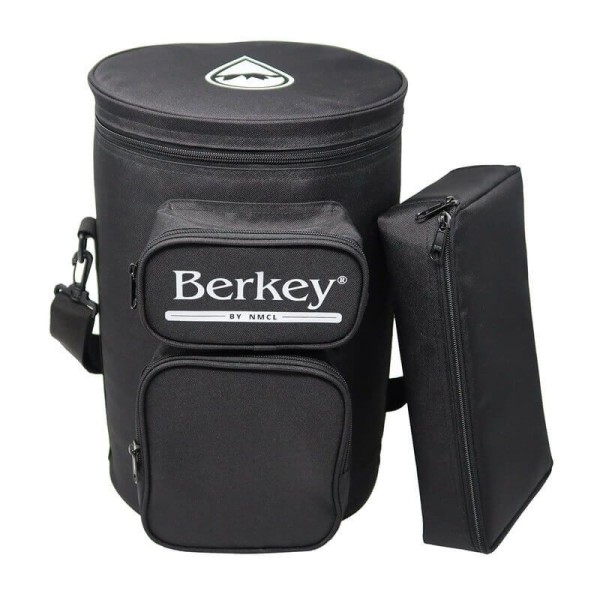  
Tote bag Big Berkey®
Tote bag for Big Berkey®

Reinforced carrying bag


Protects your Big Berkey® on the go


Multiple compartments


Special Black Berkey® filter pouch


Available in black or grey
✔ Out of stock!
✔ Next arrival not communicated
✔ Register your email address to receive an alert
Tote bag for Big Berkey®
Specially designed to take your Big Berkey® on vacation or on a weekend trip, the Big Berkey® carrying bag will allow you to securely transport your system's tanks and Black Berkey® filters in the pocket reserved for this purpose.
Made of durable 600 denier polyester, there's no fear of mishandling your Big Berkey® system in the middle of your luggage. Featuring a shoulder strap, reinforced stitching on all seams and handles, two D-rings for maximum security, special compartments for accessories such as faucets, this true Berkey® organizer comes with a special Black Berkey® pocket that will hold your filters safe from other accessories.
Your Big Berkey® is a real case, so you won't risk scratches or other bumps when you transport your beloved purifier! It can follow you wherever you go!
This carry bag has a place for everything, safely.
Color : black or grey
Size : height 38 cm - diameter 26cm
Weight : 600 gr
Upper compartment : 10 x 16.5 x 5 cm
Lower compartment : 16.5 x 20 x 5 cm
Black Berkey® Pockets : 5 x 18 x 30.5 cm
Includes :
Carrying bag
Special black Berkey® pouch
Slingbacks
Instructions

Big Berkey® compatible only