ASSISTANCE AND TIPS

FREE SHIPPING*

BERKEY® AUTHENTICITY
ALL MODELS BERKEY®

Travel Berkey® 5.6L



Big Berkey® 8.5L



Royal Berkey® 12.3L



Imperial Berkey® 17L



Crown Berkey® 22.7L



Berkey Light® 10.4L



Go Berkey® 0.95L



Sport Berkey® Bottle 0.65L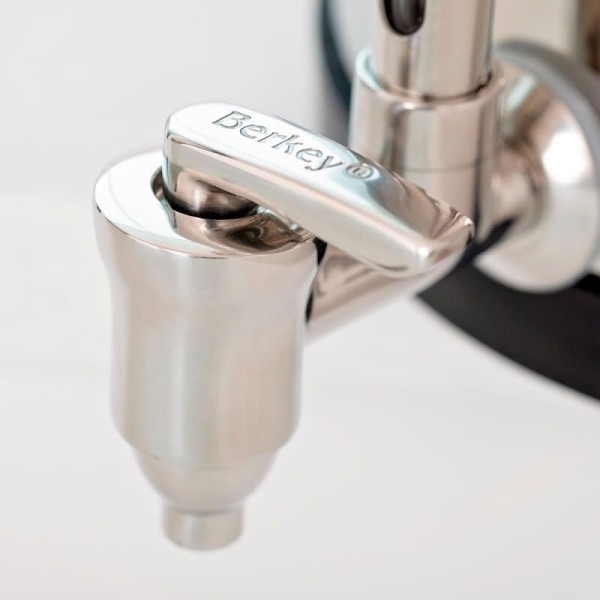  
Berkey® Water View™ spigot Imperial/Crown
IN STOCK - delivered 48/72h*
Berkey® Water View™ Spigot
for Imperial/Crown Berkey®

As a replacement for a standard faucet


Allows you to control the level of your water filter


Very easy to install


Reinforced glass tube under stainless steel shell
NEW: Berkey® Water View™ spigot for Berkey® water filter
Imperial/Crown Berkey® size

All stainless steel, new for 2022! The long-awaited Berkey Water View™ Spigot, which provides an instant reading of the water level in the lower chamber of your stainless steel Berkey® water filter.
Purified water does not come into contact with plastic. Easily see the water level in the lower chamber for safer refills. Smooth tap handle with open/close position uses ceramic disc technology.
A premium accessory for Berkey® stainless steel water filtration systems! Completely plastic-free and made of highly polished food grade 304 stainless steel. The Berkey Water View™ stainless steel faucet is available in three sizes to perfectly fit your Berkey® water filtration system. The faucet protrudes 1 inch from your system when installed.
Size 32 cm - For Imperial/Crown Berkey®
(2) Food grade silicone gaskets
(2) Stainless steel washers
(1) stainless steel nut
Installation Instructions

Data sheet
Material

Food grade plastic, aluminium and glass

Compatibility

Crown Berkey®
Imperial Berkey®
You might also like
indoor-berkey-filters
Crown Berkey® 22.7L
Crown Berkey® water filter Water filter for 6 to 12...