ASSISTANCE AND TIPS

FREE SHIPPING*

BERKEY® AUTHENTICITY
ALL MODELS BERKEY®

Travel Berkey® 5.6L



Big Berkey® 8.5L



Royal Berkey® 12.3L



Imperial Berkey® 17L



Crown Berkey® 22.7L



Berkey Light® 10.4L



Go Berkey® 0.95L



Sport Berkey® Bottle 0.65L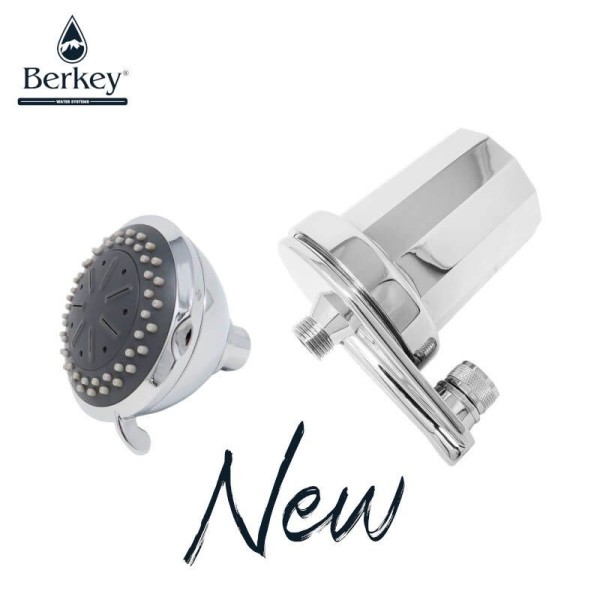  
Berkey® Inline 3 spray
IN STOCK - delivered 48/72h*
Berkey® Inline + 3 spray shower head


NEW PRODUIT


 Berkey® Inline shower filter included


3 types of spay


Chrome finish


3 et 12 months warranty
INSTRUCTIONS SUPPLIED






Berkey® Inline with 3 spray Berkey® shower head

Shower filter and shower head set, equipped with Berkey® Inline shower filter
Turn the shower head in either direction to change the spray pattern.
To clean, periodically wipe the shower head with warm water and mild soap. Rinse well and pat dry with a soft cloth.
Never use abrasive cleaners as they may damage the chrome finish of the showerhead.
Specifications
3 sray
nominal flow rate : 9,5 litres per minute
Dimensions : diameter 89 mm - depth 72.75mm
Operating pressure : 1,4-5,5 bar
Operating temperature range : 4°- 40° C
Berkey® Shower filter included
3 months warranty for shower head
12 months warranty for shower filter
Precautions
Installation of the showerhead must comply with local and national plumbing codes
Do not use when line pressure exceeds 5.5 bar or water temperature exceeds 40°C.
To improve the seal, wrap plumber's tape (not included) clockwise several times around the male end of your shower arm or shower filter before connecting the shower head.
For specifications and precautions for the Inline shower filter, see the product page.